Why do we use battery monitoring system?
Continuous power is essential for organizations with critical applications. Stand by batteries provide the last line of defence against downtime. Without battery monitoring the true integrity and capacity of battery banks remains unknown.
Technology of battery monitoring has important impact on reliability and can be used to define the best strategy for service and replacement, resulting in a better level of protection for all applications. Continuous monitoring of internal resistance, voltage, current, temperature and changes during charge/ discharge cycling can specify degeneration of individual batteries prior to failure.
Our Battery Monitoring System
Intelligent battery status monitoring with predictive analytics and alert before its failure
Real-time Monitoring with high accuracy
Battery cells can be monitored individually
Automatic Online Load Test during float charge – no maintenance time
Secure installation
Scalable with modular design
Applications
Solar Farm – Energy Storage – up to 2 MWH per system
Telecom Industry 48 Vdc system – Network Nodes and BSC Centralized monitoring.
Data Center – UPS backup battery – up to 1,920 battery blocks per system
Specifications : Solution BM-0204

Battery Monitoring Catalog 20180319
Battery monitoring solution for energy back-up batteries. Up to 240 batteries per single system and up to 1,920 batteries using additional server.
Real-time monitoring for individual cell voltage, ambient temperature and string current.
Automatic load test and battery health check by internal resistance.
Suitable for both Data Center and Telco with 48Vdc environment.
Web-based user interface and web-service API (JSON)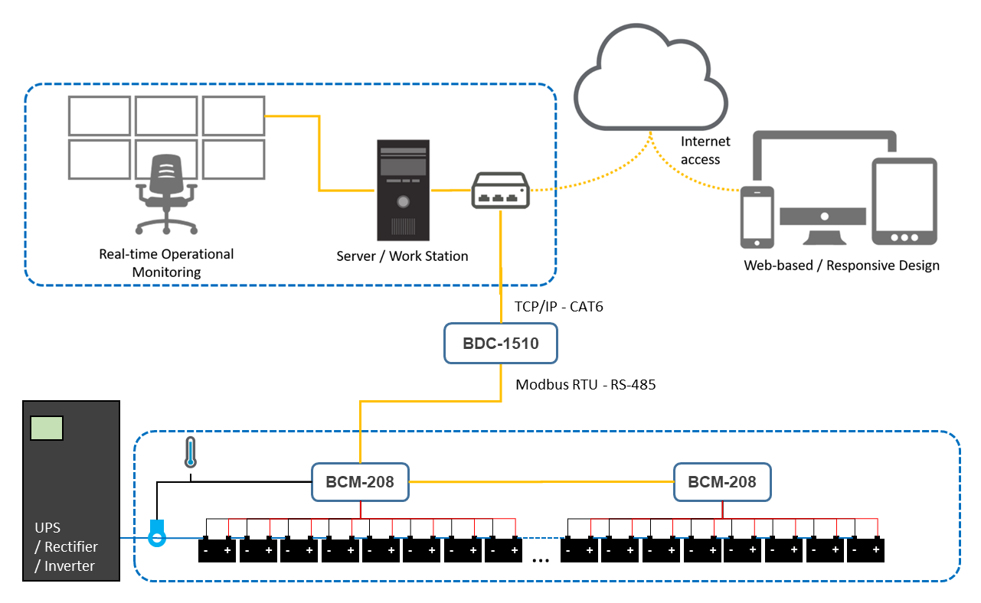 Battery Monitoring Module : model BCM-208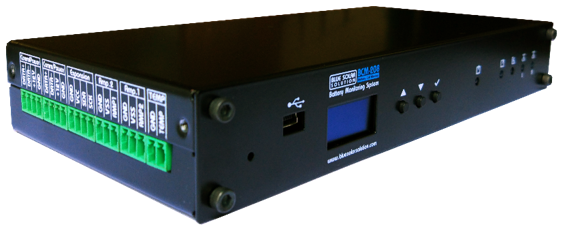 A BCM-208 is designed for individual battery cell voltage measurement.
Individually load test to check state of health (SoH) of each battery.
Float charge current and voltage monitoring.
No power consumed from monitored battery to avoid fully discharge that can cause the battery damages.
BCM-208 : Specification
Voltage measurement range
2 V – 12 V
Voltage accuracy
+/- 0.1 %
Voltage resolution
0.01 V
No. of Voltage channels
8 Channels
No. of Current channels
2 Channels
No. of Temperature channel
1 Channel
Dry Contact Output 12V/1A
1 Channel
Communication RS-485 with Modbus Protocol
Communication Response Time
100 ms
Operating temperature
-20 to 80 ºC
Operating humidity non-condensing 10 – 80% RH
Current Accuracy
+/- 1%
Current Resolution
0.1 A
Temp. measurement range
0-80 ⁰C
Temperature accuracy
+/- 2%
Temperature resolution
0.1 ⁰C
Auto. Load Test is available for 7 – 300AH Battery
Auto. Load Test Schedulable up to 4 time/day
Powered from Power Supply
12 – 48 Vdc
Power consumption
2 W
Size 10x20x3 cm. Weight 760 g.
Data Collector Unit : model BDC-1015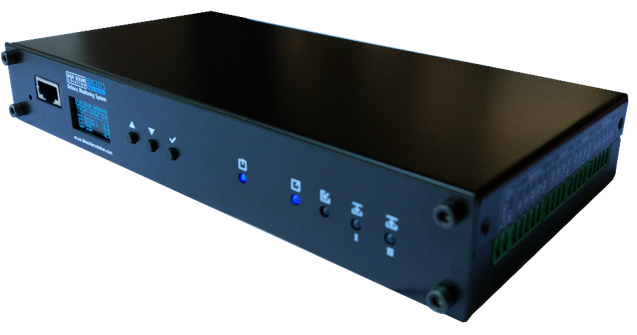 A BDC-1015 Fanless Embedded system is used to collect voltage/temperature/current data from BCM-208 via RS485 ports.
BDC-1015 can be web server to let client computers to connect and display battery information via web-base UI and JSON API.
And also be a web client used to post data to cloud server.
BDC-1015 : Specification
Maximum number of connection to BCM-208 :
30 modules 240 Batteries (15 modules/bus)
No. of RS-485 Port
2 ports
No. of Ethernet Port
1 port
Web-service Interface
JSON
Web-based User Interface
HTML5
Dry Contact Output 12V/1A
2 Channels
Auxiliary Analog Input
2 Channels
Operating temperature
-20 to 80 ºC
Operating humidity non-condensing
10 – 80% RH
Load Test Scheduling Configurable
Internal Resistance Data Logger
Solid State Current Load
SD Card Memory
4 GB
OLED Display
Powered from Power Supply
12 – 48 Vdc
Power consumption
2 W
Size 10x20x3 cm. Weight 500 g.
String Current & Temperature Module : model C8-200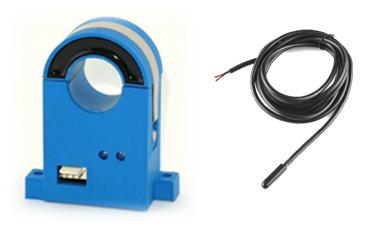 A C8-200 is a module used to measure the string current and ambient temperature with hall effect current senor and temperature probe.
C8-200 : Specification
Current Sensor
Current measurement range
+/- 50 to 1000 A
Current Accuracy
+/- 1%
Linearity
1%
Insulation Voltage
3000 Vdc
Operating Temperature
-10°C ~ +80°C
Unit Weight
90 g
Offset Voltage
20mV
Hysteresis Error
±10mV
Overload Capacity
20 times
Response Time
10uS
Thermal Drift
500 ppm/°C
Power Consumption
0.25 W
Temperature Sensor
Temperature measurement range
0-80 ⁰C
Software Interface : PC Version
Battery Monitoring Software installed in an industrial PC to manage load test schedule, record data and analyze state of health of individual battery using internal resistance information.
Software Features and Functions
Structure Configuration
– Multi-Site Management
– Multi-UPS per Site
– Multi-String per UPS
– Battery Types and Condition
Real-time Monitoring
– Charge/Discharge Status
– Individual Battery Voltage
– String Total Voltage
– String Current
– Ambient Temperature
Overall Level Alert
– Power Outage / Discharge Event
– Abnormal Ambient Temperature
– Over Charge/Discharge Current
Individual Battery Alert
– Over Charging Voltage
– Deep Discharging Voltage
– Internal Resistance exceeding threshold
– %Change of Internal Resistance from Initial State
Discharge Curve Analysis
– Discharge curve comparable to the other batteries
– Internal Resistance Trending comparing to threshold
Scheduled Automatic Load Test
– Monthly/Daily Schedule
– Specific day of month
– Specific hour of day
Monitoring Cloud Services
We also provide cloud solution for Battery Monitoring Services.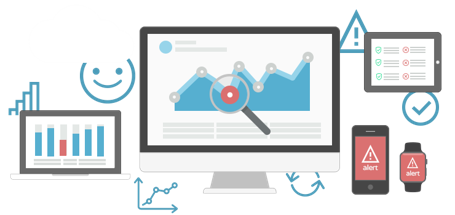 Why cloud?
– Customers can monitor anywhere anytime over the internet.
– Multiple locations support.
– Maintenance-free software.
– Save initial cost on infrastructure.
– Free new features update.